British Virgin Islands Awards & Mentions


British Virgin Islands Mentioned in Cosmopolitan Magazine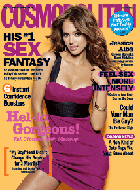 In the September 2007 issue of Cosmopolitan magazine (cover show to the left) on page 178 under the heading

"MY HOT AND HEAVY VACATION WITH HIM"
R&R (romantic and risque describes these readers' dreamy getaways.

Heidi, 24 wrote the following excerpt
"I'd been to the Caribbean before, but when Jay mentioned taking a trip to Peter Island in the British Virgin Islands, I had no idea what I was getting into. It was four nights in paradise with the prettiest aqua colored water I have ever seen. On one of the days, the resort dropped us off on a private beach you can actually reserve for half a day. It's ultra secluded with only two chairs and a palm -covered umbrella! The Hotel staff had packed us a gourmet lunch and did not return until 2 p.m., so we used that time to explore outdoor sex! On the last evening, we were chauffeured to Peter Island's highest point to watch the sunset, where we enjoyed fruit, cheese, and a bottle of wine . There's no way I'll ever forget it"
--- Heidi, 24
Information provided have been taken from www.cosmopolitan.com and the September, 2007 issue of Cosmopolitan magazine
---
World's Smallest Gecko (Guinness World Records since 1965)
Recorded in 1965-66, Thomas,R discover the Gecko with the scientific name Sphaerodactylus Parthenopion
Genus: Sphaerodactylus
species epithet: parthenopion
The Gecko which is indigenous to Virgin Gorda, British Virgin Islands is the smallest lizard in the world. Most measure as small as 0.6" long from snout to vent with tails approximately the same length.
If you want to enjoy the wonders of nature with out the fear of poisonous reptiles and dangerous animals and plants. The BVI is a wonderful place to take the whole family hiking and exploring.

---
Wheel of Fortune winner comes to the British Virgin Islands
Joseph Branca and his Girlfriend Emily Richards, California residents, was welcome onto the premises of Green Bank Villas on Tortola. These were not ordinary tourist, Joseph a 27 year old resort manager won this trip on Wednesday October, 14th 2009, the young man had solved the prize puzzle "Peaceful Island Getaway" and won a vacation at Green Bank Villas. It is recorded that wheel of Fortune has an audience of about 10 million. Much of the viewers learned about the British Virgin Islands from wheel of fortune on the day of that show.

---
Caribbean Travel & Leisure's Best of the Caribbean Reader's Choise Awards 2010. The British Virgin Islands was voted Best Caribbean Destination for Adventure, Best Caribbean Destination for Beaches, Best Caribbean Destination for Dining & Cuisine, Best Caribbean Destination for Honeymoons & Weddings, Best Caribbean Destination for Water Sports and Best Caribbean Destination for Family.

Have you read about the BVI in any media?
Tell us about it by emailing wesley@bvivacation.com