Getting to British Virgin Islands
OK lets start at the beginning, you go to your travel agent and you tell them you would like to go to Tortola, Virgin Gorda, Jost Van Dyke or Anegada. Most times you will get the same response. Where is that? So you try to be a little more specific and you tell them that it is in the Virgin Islands. The only problem is that your travel agency doesn't know that there is a U.S. Virgin Islands (USVI) and British Virgin Islands (BVI). Two completely separate countries which are governed independently. So you go into another 15 minutes explanation about the two different countries next to each other. The BVI being a colony of the United Kingdom and the USVI a colony of the United States of America..

If the process becomes too frustrating remember that the BVI has many travel agents that can help you plan your visit to the BVI. The main advantage of using a BVI travel agent is that most times getting to the BVI requires using local ferry services that BVI travel agents are very knowledgeable about. They can efficiently combine flight with ferry connections. BVI travel agents are also aware of BVI events such as holidays that may cause delay or presents more challenges for your travelling arrangements.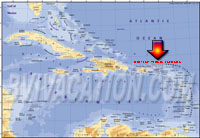 see Travel Agencies in the British Virgin Islands
How to get to British Virgin Islands
Getting to the BVI (Tortola, Virgin Gorda, Anegada, Jost Van Dyke) and other smaller Islands is very easy as long as you remember these simple facts.
1). There are no direct flights to the British Virgin Islands from North America, South America, Europe, Asia and other major countries.

2.) All flights to British Virgin Islands must first stop at neighbouring Islands from now on which we will refer to as "connection hubs" or "hubs" to the British Virgin Islands (see connection hub listed of popularity below with (1) being the most popular).
3.) After getting to one of these connection hubs no matter which Island you are travelling to Tortola is the Capital Island of the British Virgin Islands and it is some times easiest to travel to Tortola and then Travel to other Islands in the British Virgin Islands by ferry or chartered plane.
* One exception to this may be using the San Juan Puerto Rico Hub to get to Virgin Gorda by Air.

THE CONNECTION HUBS TO THE BVI
1) San Juan, Puerto Rico --- airport code SJU (used by many U.S.A. Travellers)
2) St. Thomas, USVI --------airport code STT (many ferries to BVI)
3) Antigua (ANU) St. Maarten (SXM) Barbados (BGI) ----- (used by many European Travellers)
4) St. Croix, USVI -----------airport code STX (mainly sea planes and seasonal)